Holy Orders
"Holy Orders is the sacrament through which the mission entrusted by Christ to his apostles continues to be exercised in the Church until the end of time: thus it is the sacrament of apostolic ministry. It includes three degrees: episcopate, presbyterate, and diaconate." (Catechism of the Catholic Church #1536)
"This sacrament configures the recipient to Christ by a special grace of the Holy Spirit, so that he may serve as Christ's instrument for his Church. By ordination one is enabled to act as a representative of Christ, Head of the Church, in his triple office of priest, prophet, and king." (Catechism of the Catholic Church #1581)
"As he was walking by the Sea of Galilee, he saw two brothers,
Simon who is called Peter, and his brother Andrew,
casting a net into the sea; they were fishermen.
He said to them, 'Come after me, and I will make you fishers of men.'
At once they left their nets and followed him."
(Matthew 4:18-20)
The word "vocation" comes from the Latin word "vocare", meaning "to call." So in the broadest sense, a vocation is a calling to a particular way of life, such as to be a doctor, lawyer, social worker, etc. In the stricter sense, however, we speak of a Vocation as a life of service in the Church as a Priest, Deacon, Religious Brother or Sister, or as a Husband or Wife.
So, how do we discover our "true calling?" We discover it through the process of "discernment." The process of discernment is the process of sifting through or separating out the many peripheral, or erroneous, choices for our life. For this, we need the aid of family, friends, experts, or a spiritual director. Employing all or some of these tools can help us recognize not only our strengths and weaknesses, but also our "true calling."
Are You Being Called?
The Vocations Office of the Diocese of Dallas provides a good introduction to the priesthood as well as religious opportunities for both men and women. Their website also highlights upcoming vocation events and provides answers to frequently asked questions.
Vocations Office of the Diocese of Dallas
---
If you would like to talk more with someone about your Vocation, reach out to one of our Priests or Deacons, and especially the Vocations Director for the Diocese of Dallas, Father Paul Bechter.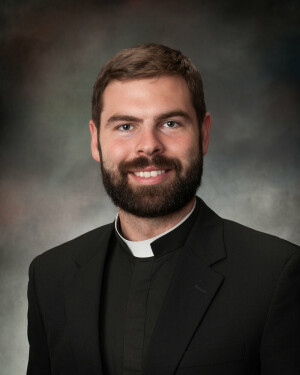 ---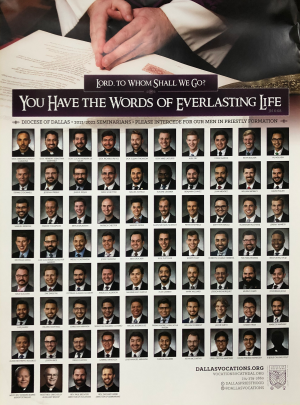 ---
Learn more about our own Collegiate Seminary here in the Diocese of Dallas: Holy Trinity Seminary! Depending on the state of Covid, they are normally open to the public for Sunday Masses during the school year.