Faith in Action
Class Saints
Each year the kindergarten class picks a class saint and announces the saint to the community during an All Saints Day parade that is held on November 1st. That saint then follows the students through their eighth-grade year as a role model and guide.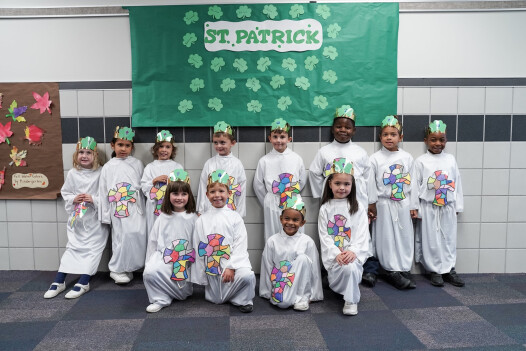 Prayer Buddies
The Prayer Buddy program pairs older students with younger students to help build our community of faith. Prayer Buddies provides an opportunity for students to develop spiritual fellowship with students at another grade level and various activities are planned throughout the year. Prayer Buddies sit together at all school Mass and other religious celebrations, and the older students help teach about each event.
Retreats
In the spirit of the Pope Francis encyclical, Laudato Si, fifth-grade students attend an environmental education retreat for four days and three nights at The Pines Catholic Camp. Student experience God's love for them through nature and community, and learn about what it means to be a servant leader in the community. Activity areas include forestry, archaeology, limnology, meteorology, entomology, and orienteering. Teachings of the Church, saint stories and scripture study are included to enhance the knowledge of the students and open their eyes to see how God is at work in our environment.
Each Fall, the eighth-grade students at ASCS spend three days at Sky Ranch Christian Camp for a leadership and teambuilding retreat lead by our youth ministers. At this retreat, youth are challenged to take more ownership of their faith and their path as a disciple of Jesus and members of his Catholic Church. They are challenged to grow in leadership skills and come together as a class to serve as a positive example to the rest of their school community.
As part of the confirmation preparation process, students are expected to attend a Confirmation retreat during their second year of preparation prior to being confirmed. On this retreat, students explore their faith and deepen their relationship with the Holy Spirit. They are challenged to ask the most important of life's questions and to be open to the answers that Christ offers us through a relationship with him founded on trust, prayer, the sacraments and living a life of heroic virtue.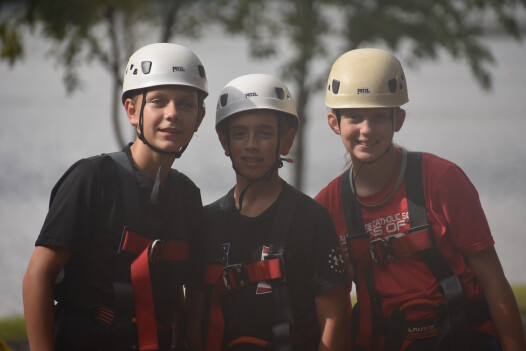 Gallery of Saints
The Saints Gallery is produced by the eighth-grade students as part of their preparation for the sacrament of Confirmation. Students dress up as the saint of their choice then line the hallways and share their saint's life with students in PreK3-7th grades.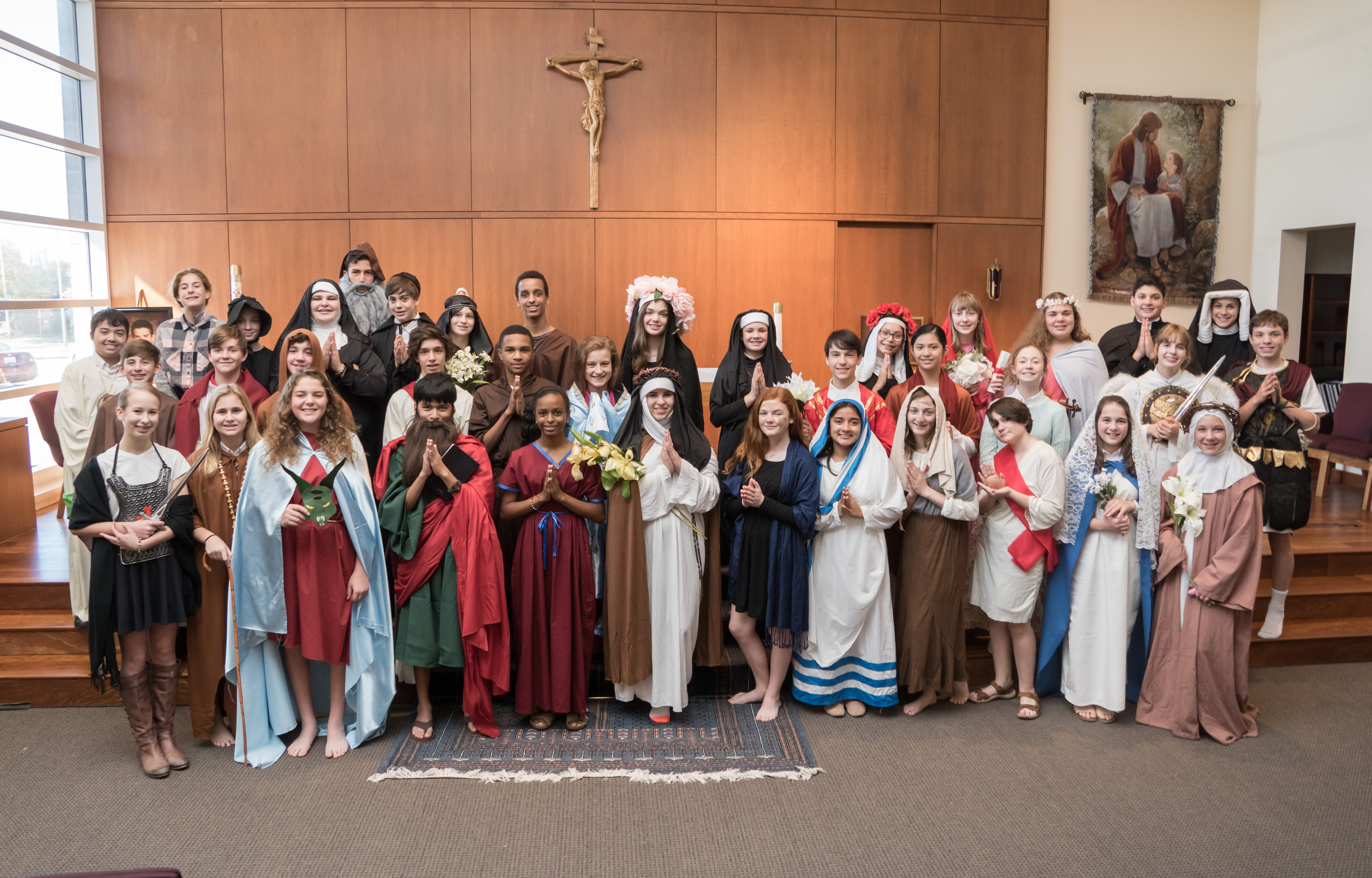 Catholic Charities Food Drive
All Saints Catholic School participates in the Catholic Charities of Dallas Food Drive. Each year All Saints classrooms donate food to fill the pantry of Catholic Charities so they may continue to feed those in an unfortunate position.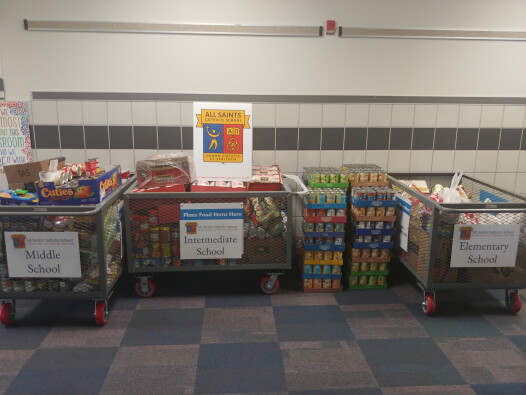 Lenten Wednesday Morning Reflection
On Wednesday mornings during Lent, reflective music plays over the intercom and students come into the building silently. Each classroom has a LED candle lit on Wednesday mornings when the students arrive, and teachers may have a Lent activity, appropriate for their grade level, for the students to complete during quiet homeroom time.
Lenten Stations of the Cross
Stations of the Cross allows students to connect to Lent in a meaningful and symbolic way. Classes schedule time in the chapel throughout Lent for this prayerful activity.
Vocation Awareness
Along with the parish, the school actively participates, through prayer and education, in Vocation Awareness Week, the annual celebration of the Catholic Church in the United States dedicated to promoting vocations to the priesthood, diaconate and consecrated life.
Catholic Relief Services Rice Bowls
Catholic Relief Services (CRS) Rice Bowl Lenten faith formation program encourages students to pray, give up something, or fast in solidarity for those who hunger. Students learn about our global community and the challenges of hunger and poverty around the world. They are encouraged to give sacrificial donations to those in need.