Profile of an All Saints Graduate
At All Saints Catholic School, we believe each child should become the person God intended him or her to be. We partner with parents and community leaders to develop the unique God-given gifts and capabilities of each student, so they may be used in the best possible service of others and in the fulfillment of the mission of the Church Universal. We do this by a commitment to excellence. By the time a student graduates from All Saints Catholic School, they will have achieved: Excellence in Faith, Excellence in Academics, Excellence in Service and Excellence in Character.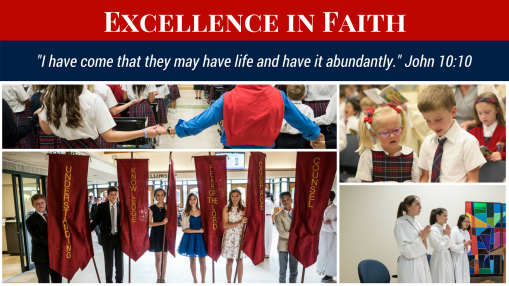 All Saints graduates know, defend, and share their faith. They are given many opportunities to develop a strong personal relationship with Jesus Christ. Our graduates know that faith and reason go hand in hand and they explore the world as people of faith.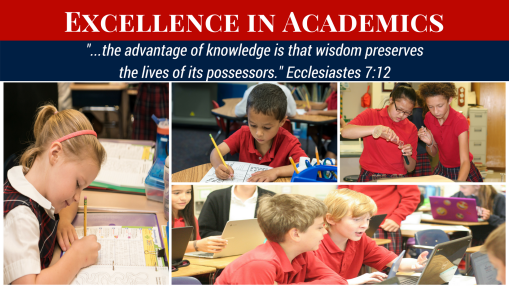 At All Saints Catholic School, knowledge goes beyond the classroom. The purpose of education is to prepare students for life. By incorporating real world connections into every aspect of our curriculum, our students become engaged, confident learners that see the real world applications of what they are studying in the classroom. Our passionate team of educators inspire our students to be committed to excellence in the use of their talents for the glory of God.
Our students know that learning is a lifelong process. Learning involves taking risks. Some of our greatest learning is borne from our failures. Our students are not afraid to take risks or fail, because they want to learn and our team of educators are committed to a safe environment where students have the opportunity to learn from mistakes. Our students are innovative and creative and can effectively communicate, both orally and with the written word.
We understand the expanding influence of technology in our lives and we are committed to using technology to enhance the educational experience in all subject areas of our students and ensuring that our graduates are computer literate and well-versed in the ethics and proper use of technology.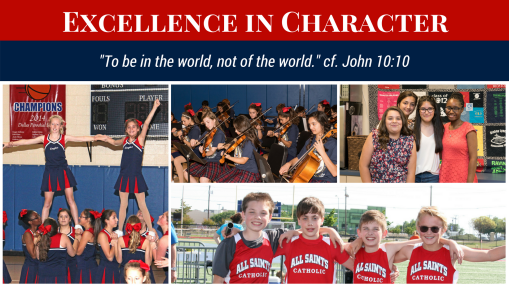 Our students are not only committed to excellence in their academic pursuits but are also well-rounded young men and women of God. All Saints students are well-versed in the visual and performing arts and athletics. They also possess good organizational skills and study habits, deportment and have exemplary character. We recognize the unique cultural heritage each student brings to our community and we strive to promote cultural diversity and awareness amongst our student body.
Letting the light shine on our students is an essential aspect of building character. Whether it is on the field, on the stage, or in the concert hall, these extracurricular activities allow students to express their creative abilities and explore their inner selves. Our programs cultivate individual growth, promote teamwork, develop character, and encourage healthy competition.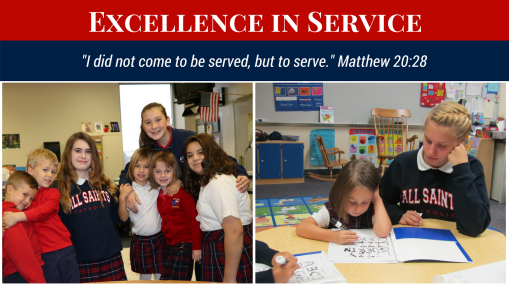 Our Catholic faith encompasses the entire human experience. What we profess in our Creed is only meaningful if it is manifested through our actions. The real world application of our Catholic faith is a life of service. Our students emerge ready to fully embrace their role as the servant leaders God has called them to be.