Sunday, May 16, 2021, 7:30 AM - 1:00 PM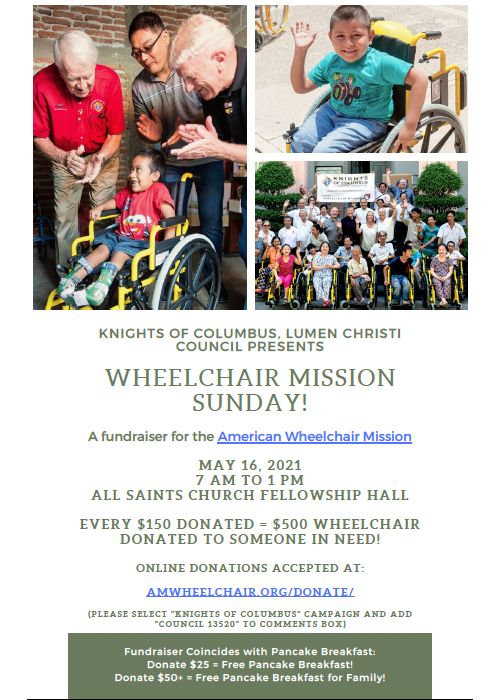 More on the American Wheelchair Mission
The Knights of Columbus are sponsoring the
Wheelchair Mission fundraiser on Sunday, May 16th, after the Sunday morning Masses, in the Fellowship Hall. See the attached flyer for more information!
Just as a reminder, the Wheelchair Mission Sunday is a fundraiser for the
American Wheelchair Mission
. For every $150 donated, a brand new wheelchair of $500 retail value is donated to someone in need.
This year's fundraiser will coincide with Pancake Breakfast Sunday. The Knights are offering
free pancake breakfasts for those who donate
as follows:
Donate $25 = Free Pancake Breakfast!
Donate $50+ = Free Pancake Breakfast for Your Family!
If a member is unable to attend the fundraiser, they can donate online at
amwheelchair.org/donate/
. At the fundraiser website, please select the "
Knights of Columbus
" campaign and add "
Council 13520
" to the comments box on the donation page. If they would rather write a check, please tell them to email me and we'll coordinate their donation.
We appreciate all your support for this worthy fundraiser.